Manual Handling Training
Every Evenings

from

Galway City

 

–  Live Manual Handling training and Assessment

For Bookings and further info Please Ring Michelle on

087-7950282
Online Manual Handling
​
Course:                   Day:                    Time:
Manual Handling  –  Monday      –     24 hours a day
Manual Handling  –  Tuesday     –     24 hours a day
Manual Handling  –  Wednesday  –  24 hours a day          
Manual Handling  –   Thursday  –     24 hours a day         
Manual Handling  –  Friday   –          24 hours a day
Manual Handling  –   Saturday    –    24 hours a day
Manual Handling  –  Sunday   –        24 hours a day  ​
3 Year Certification, Call 087-7950282 to Book !! or hit the bookings tab on the top of the page.
​Training delivered and assessed by a qualified Fetac/QQI Instructor as required by the HSA
We can also send a tutor on-site to your workplace Just Call!
Bespoke training can also be designed to suit the needs of your working environment, just call the office for more information of what it will cost and how we plan it for you.
IMPORTANT – Manual Handling Certificate lasts for 3 years and Course duration can vary depending on the number of attendees on the day.
We can send a Trainer to your premises if you require just call us for more info.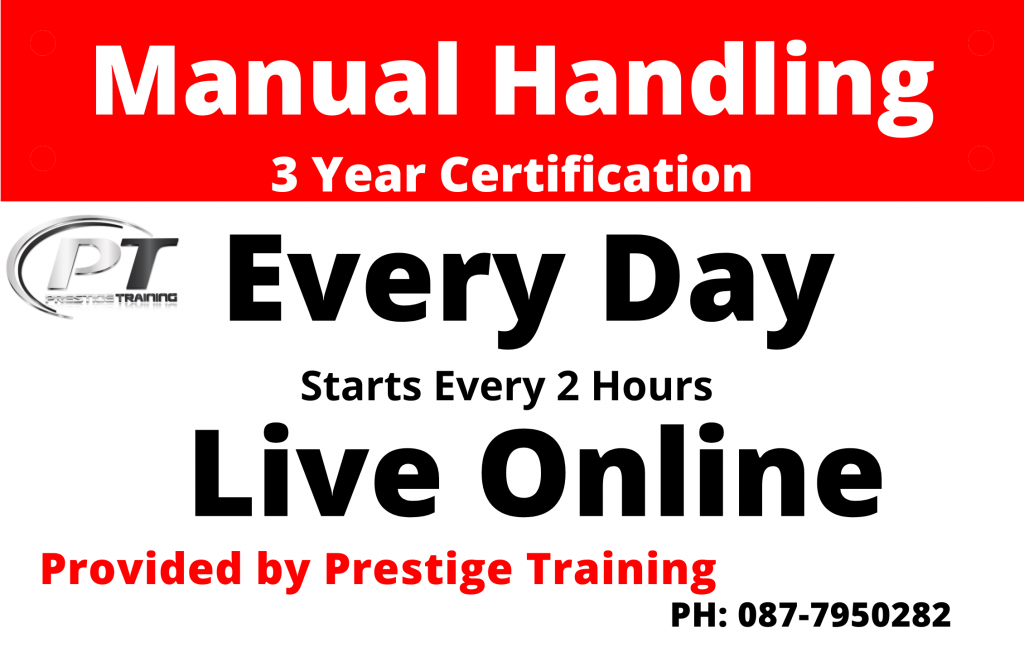 Course Subjects
Manual Handling – introduction and definition

Structure and function of the human spine

Causes of back injuries

Prevention of back injuries

Ergonomic aspects of manual handling

Lifting skills – theory and practice

Reducing manual handling injuries

Current legislation, EU directives and statistics

Manual handling quiz/assessment

Programme summary
Understand the structure and functions of the human spine

Understand the main causes of back injuries in the workplace

Know the main causes of soft tissue injuries and cumulative strain

Have learned the correct posture for sitting and standing

Have learned the correct skills and techniques for lifting materials/equipment safely

Be able to identify and eliminate the causes of strain and injury in their workplace

Understand current legislation, and employer/employee responsibilities
DURATION: varies on attendance numbers
PARTICIPANTS: 12 per class
VENUES: Online or at your workplace Just Call
CERTIFICATION: Lasts for 3 Years
PRICE: €40
Who Should Take This Manual Handling Training Course? The manual handling course is aimed at all levels of employees who may undertake manual handling operations, including the transporting of a load of items by lifting, putting down, pushing, pulling, carrying or moving thereof by hand or by bodily force. This includes, but is not limited to, professions such as:
Warehouse and factory staff

Heavy manual labourers

Unloading and loading of vehicles

Construction and building site workers

Office workers

Delivery drivers

Farmhands
Manual Handling accounts for 33% of Accidents reported to the Health and Safety Authority. Manual handling includes the use of the human body to lift, lower, fill, empty, or carry loads and also includes climbing, pushing, pulling, and pivoting, all of which pose the risk of injury to the back. The load can be inanimate (an object) or animate (animal or person) and manual handling injuries occurs in most industrial sectors including manufacturing and warehousing, retail, construction, transportation, agriculture and the health care sector.